Have you ever thought of your favorite scrollbar design? It's the kind of UI and UX design that often gets overlooked because we use it so casually. Web curator and coder Sébastien Matos has created an interactive journey into scrollbar design, which means you can visit his page and play with over 30 years of UI design.
There's a lot to learn from experimenting with great UI design like the scrollbars of the old macOS, and a site like Matos's, while new, is actually a reminder we need to retain the old design concepts in a practical way. There's nothing quite like being able to interact with the UI design. Check out our guide to the best UI prototyping tools for a hands-on approach to creating your own.
A visit to Sébastien Matos' website (opens in a new tab) for a fully interactive experience of the best scrollbars of yesteryear is actually a great look at the designs of yesteryear, and it's got fans talking, and naturally, debating, which is best. Twitter is notorious for a lot of hot takes, but when UI fan @BoredElonMusk posted a link, everyone had to have their say.
Some of the best comments come from fans remembering their favorites. "Windows 95-2000 was a cutting edge scrollbar," @siebel_ess wrote. "Okay!" @bendodge replied, adding, "Simple, clean lines without being blindingly white or so streamlined you can't tell what they're doing."
Before we dive deeper into reactions to these iconic scrollbars, why not familiarize yourself with some of the current trends in web design in general. We have guides to the best website builders as well as the best web design software available today, for example.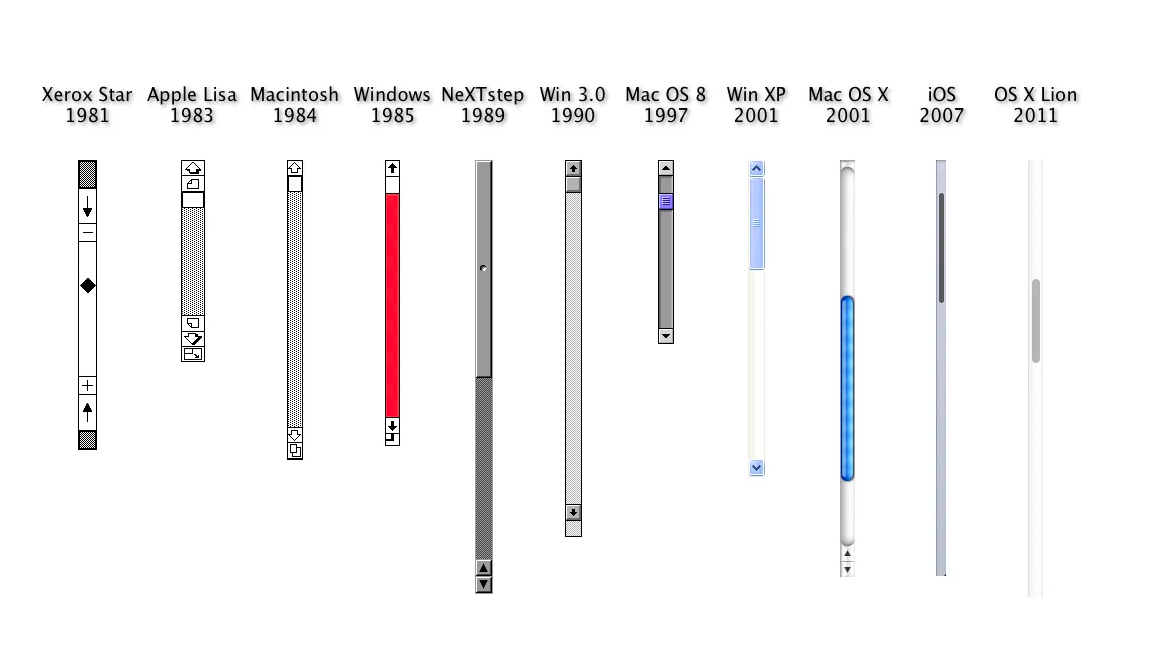 Some fans of the classic scrollbar UI design have taken aim at the current culture of scrollbar design, especially from Apple. @terryogara wrote: "Not a fan of Apple's current dark mode scrollbar solution, where the light gray slider lacks contrast in idle mode, resulting in long pages displaying a Hermann grid illusion in the trough, forcing users to distinguish ghosting from the actual slide."
The debate usually rages then between Apple or Microsoft has better scrollbar UI and UX design, with many favoring Vista over all. The last word is pretty much the view of anyone who likes a bit of nostalgia, as @MagdalaMystikos wrote: "It peaked in 1995 and it's been worse since."
If you're a UX and UI designer, read our article on the ultimate UI design. If you're more into retro tech, check out our guide to the best retro consoles and the best retro controllers.
Read more: