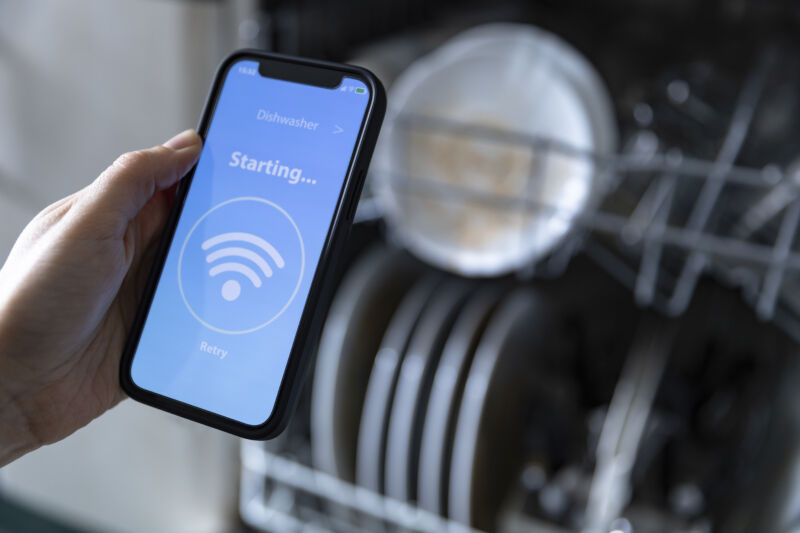 Appliance makers like Whirlpool and LG just can't figure it out. They've added Wi-Fi antennas to their latest dishwashers, ovens and refrigerators and created apps for them, yet only 50% or less of their owners have connected them. Which give?
The problem, according to manufacturers cited in a Wall Street Journal report (subscription usually required), is that customers simply don't know all that a manufacturer can do if users connect the device that spins their clothes or keeps their food cool. such as "providing manufacturers with data and information on how customers use their products" and allowing companies to "send live updates" and "sell relevant spare parts or subscription services ".
"The challenge is that a consumer doesn't see the true value that manufacturers see in terms of how this data can help them in the long run. So they don't really care to spend time just plugging it in," Henry Kim, US manager of LG's smart device division, ThinQ, told the Journal.
LG told the Journal that less than half of its smart devices, which account for 80-90% of its sold devices, stay connected to the internet. Whirlpool reported that "more than half" are connected. Wi-Fi connected smart devices can be connected when first set up, but new ISP, router hardware, or Wi-Fi password can take the device offline. And a smart oven will likely be far down the list of appliances to set up again once that happens.
That means companies like Whirlpool are missing out on revenue from services, which are increasingly crucial for manufacturers facing rising input costs, falling replacement purchases and hungry shareholders. Whirlpool acquired the Yummly recipe management app in 2017, and its customers can sync a Yummly Pro subscription to a smart oven to follow recipe instructions (which, apparently, must go beyond "the heat at this level").
For its part, LG saw a gradual increase in water filter sales when it tracked water volumes on connected refrigerators versus unconnected refrigerators, the company told the Journal. The two companies also suggested that new features, including security alerts, be sent to connected customers.
Whirlpool told the Journal that customers "have the option to opt-in or opt-out" of data sharing with the company. LG doesn't offer this option, but Kim told the Journal that "all data is anonymized."
While manufacturers blame technical constraints, some customers may simply not want to provide companies with vague privacy policies or poor track records with secure access to their networks.
It was discovered in 2013 that LG smart TVs uploaded a lot of data to their servers regarding all the activities that took place there, including playing files on USB drives. At the time, LG admitted it was collecting this data, but suggested the data was "not personal" and was only used for ad targeting or in software projects that have been discontinued. . LG is far from the only TV manufacturer to participate in automated content recognition, but it is one of the few that also manufactures a dishwasher.
More generally, smart home (or Internet of Things, or IoT) devices are too often built with a "get, download, whatever" mindset. Take the test models from iRobot/Roomba (in view of a potential acquisition by Amazon) which uploaded images of someone on the toilet to the cloud. Or one of dozens of devices detailed in an Institute of Electrical and Electronics Engineers study, a Northeastern/Imperial College survey, or the Mozilla Foundation's "Privacy Not Included" list. The problems are so widespread and varied that the White House has called for universal IoT security labeling.
Appliance makers are eager for buyers to connect their smart devices, but at least some may think they did the smart thing by letting them work offline.